Many more people remain missing in the recent Mediterranean migrant tragedy
Parish priest assisting shipwreck victims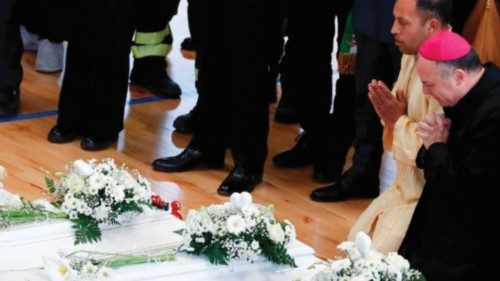 03 March 2023
Upon hearing of the shipwreck of migrants off Italy's southern coast of Steccato di Cutro, Italian Fr. Rosario Morrone rushed to the area where 62 bodies have been recovered so far. Witnessing the aftermath of the tragedy, he appealed to our common humanity and compassion to welcome these our brothers and sisters.
In an interview with Vatican News, Fr. Rosario Morrone described what he saw upon arriving at the coast: "They were right in front of me, my brothers and sisters. Dead... I didn't see their faces, as when I arrived they were all in white body bags. I said to myself: there are human beings here. There was a 9-year-old girl in a body bag, another little child also in a body bag. (It was as if) they were our own children, the ones who attend catechism class at the parish. They are human beings, like me, like you!"
Fr. Rosario Morrone, parish priest of Botricello, a village near the city of Crotone that is a few kilometers from the site of the tragic shipwreck on Italy's coast of Calabria, was one of the first to go to the beach where the bodies of at least 67 migrants have been recovered. The numbers of victims rose in the hours immediately following the tragedy and rescuers have continued searching nearby beaches.
Fr. Morrone had just finished celebrating Mass when a parishioner told him, "Fr. Rosario, a boat has washed up. It's a tragedy!" He immediately went to the coastal area where the shipwreck happened, photos of which were posted by media around the world showing forty bodies wrapped in thermal blankets. "I bowed over them and blessed them. At first I prayed and asked the Lord to receive them. There was a strong wind and for us Christians the wind is a symbol of the Holy Spirit... And I thought, but He is the Most High, He is the God of love, do I really need to tell Him to welcome them? He will have already done so. Then I said to myself that perhaps we need to adapt our prayer, and I should ask the Lord to receive their cry for help, the cry of the poor, the lowly, the fragile, and that may all of us, believers and non-believers, come together and look at things in another way, so we become more compassionate!"
During these days, Fr. Morrone has been inundated with calls for interviews: "I'm a parish priest in a remote... part of Italy, and I (do not usually give) interviews, but I must say something. I must say this in remembrance for those I have blessed: may we stop seeing things the way we have until now! There is something we Italians must be proud of and that is our hospitality! Even if it costs us, we must offer shelter to these people!... May we welcome them! They are our brothers and sisters..."
Fr. Morrone expressed his frustration over the politics regarding "closed ports" in the face of migrants who risk their lives, and he called for dialogue in Europe to share efforts justly and fairly, adding that, "at least in the meantime, we should host them, rescue them, and help them! If someone has a stronger arm, we help those with a weaker arm." The parish priest's appeal is not intended to be in any way polemical: "I am not making a speech of party politics, but of politics with a capital 'P', meaning at the service of humanity." "Humanity (compassion)," he repeated again and again during the interview, adding, "can we not be united around a common issue? One can be of the right, the left, or center, but we all must have human compassion. It's obvious then that there will be a diversity of views and opinions, and this is also an asset, but (we need) compassion!"
Calabrians have shown great solidarity during this time, assisting in any way the survivors who are now sheltered at the Cara di Isola Capo Rizzuto or in hospital where doctors are treating women and children for various injuries. Fr. Morrone said "we are Calabrians and proud to be Calabrians. People yesterday, even from neighboring towns, wanted to collect donations for clothes, food, anything of use. They would have opened their doors if there was a need!" At the moment, he said, "we can do nothing more than remain available to help," adding, "whatever they ask of us we will be ready to help right away."
Meanwhile, the date for the funeral is being decided and citizens and several Calabrian bishops are visiting Palamilone to pay their respects to those who lost their lives. Archbishop Angelo Panzetta of the Diocese of Crotone, is organizing a moment of comunal prayer. Fr. Morrone shared his own threefold wish in conclusion, "may society not look to accumulating bread only for itself, but providing bread for all. May religion... respond (concretely) to its call to love, as we go to Mass, we pray, and we have processions to love. And may politics not focus on the logic of power, but focus on the logic of serving humanity."
By Salvatore Cernuzio