Observatory
Women in the Vatican, the blessed, and ambassadors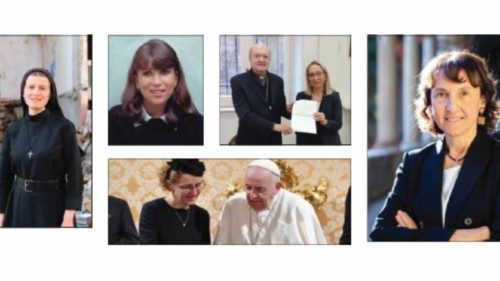 07 January 2023
Superior
The new Superior General of the Missionary Sisters of the Most Holy Redeemer is a theologian and psychologist: Theodora Shulak (1) is from the Province of Ukraine and lives in the Greek Catholic Church rite.
Blessed
She was 20 years old and resisted a sexual assault. Isabel Cristina Mrad Campos (2), beatified at Barbacena in Brazil. A laywoman and martyr, she was killed "in hatred of the faith" in 1982. For the murder, the worker Maurílio Almeida Oliveira, who always denied guilt, was sentenced to 19 years in prison. After several years in jail, he escaped, and remains a fugitive. Some claim he is dead.
The process for the beatification and canonisation of Mother Carla Borgheri (a centenary since her birth), foundress of the Missionary Sisters of the Incarnation and the Missionary Fathers of the Incarnation, who died in 2006 at the age of 84, has begun in Frascati (Rome).
Appointments
Raffaella Giuliani was appointed by the Pope as secretary of the Pontifical Commission for Sacred Archaeology; Antonella Sciarrone Alibrandi as undersecretary of the Dicastery for Culture and Education. Giuliani (3) was already an official of the Institution. Roman, married, she is the author of many texts on the catacombs. On September 16, the Pope appointed her "Magister" of the Pontifical Academy Cultorum Martyrum. Sciarrone (4) vicar pro-rector of the Catholic University of the Sacred Heart, full professor of Economic Law, was already on the board of the Supervisory and Financial Information Authority (ASIF), the Holy See's body to prevent and counter money laudering.
Ambassadors
Frances Collins, Ambassador of Ireland to the Holy See, prior to her appointment in Rome was deputy director of the Irish Ministry of Foreign Affairs, disarmament and non-proliferation section, political division. Sigita Maslauskaitė-Mažylienė (5), Ambassador of Lithuania, graduated in 2000 in Church Cultural Heritage from the Pontifical Gregorian University. She is an associate professor at the Academy of Arts in Vilnius. Annemieke Ruigrok, Netherlands, studied History, International Law and Russian at the University of Utrecht, former Consul General in New York (2021 - 2022)