With the President of France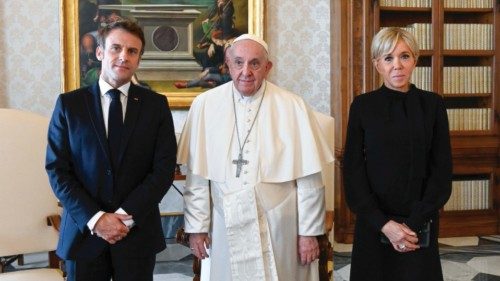 28 October 2022
The Holy Father received in audience on Monday morning, 24 October, in the Vatican Apostolic Palace, the President of the French Republic, H.E. Mr Emmanuel Macron, who subsequently met with Cardinal Secretary of State Pietro Parolin, accompanied by H.E. Archbishop Paul Richard Gallagher, Secretary for Relations with States and International Organizations.
During the cordial discussions, which took place in the Secretariat of State, the parties focused on matters of an international nature, starting from the conflict in Ukraine, with special attention to the humanitarian situation. Particular consideration was given to the region of the Caucasus, the Middle East, and Africa.
This marks their third private audience since the start of the Pontificate.
Exchange of gifts
The audience with the Pope lasted almost an hour, and there was the customary exchange of gifts.
The Pope gifted a collection of his works, as well as a bronze medallion representing Saint Peter and the colonnade. The French President gifted the Pope a first edition, in French, of the book For Perpetual Peace by German philosopher Emmanuel Kant.