Pope sends condolences
Queen Elizabeth II dies,
a life devoted to service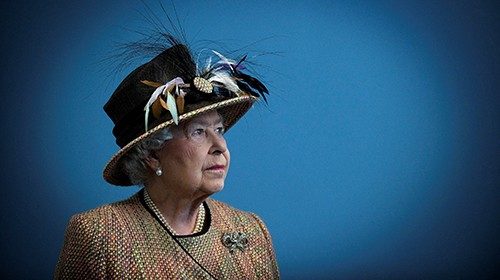 09 September 2022
Upon learning of the death of Her Majesty Queen Elizabeth II, Pope Francis sent his condolences in a telegram addressed to His Majesty King Charles III and the people of the United Kingdom.
In the telegram, sent shortly after her death, the Pope expressed his heartfelt "condolences to Your Majesty, the Members of the Royal Family, the People of the United Kingdom and the Commonwealth". He joins everyone who mourns her loss "in praying for the late Queen's eternal rest, and in paying tribute to her life of unstinting service to the good of the Nation and the Commonwealth, her example of devotion to duty, her steadfast witness of faith in Jesus Christ and her firm hope in his promises.
"Commending her noble soul to the merciful goodness of our Heavenly Father, I assure Your Majesty of my prayers that Almighty God will sustain you with his unfailing grace as you now take up your high responsibilities as King. Upon you and all who cherish the memory of your late mother, I invoke an abundance of divine blessings as a pledge of comfort and strength in the Lord".
The Queen died peacefully on Thursday afternoon, 8 September, at age 96. She reigned for over 70 years. Her son King Charles III said the death of his beloved mother was a "moment of great sadness" for him and his family and that her loss would be "deeply felt" around the world.
In a statement, the new Prime Minister Liz Truss said The Queen "was the rock on which modern Britain was built". English-born Cardinal Arthur Roche released a statement to the Vatican Media to express the "immense sadness" of all who work in the Holy See from Great Britain, Northern Ireland and the countries of the Commonwealth. In his statement, the Cardinal said the late Queen dedicated herself "unstintingly to serve her people, but also entrusted this to God's protection".
"Her Christian faith, expressed so often in her annual Christmas messages and elsewhere, were moments of outstanding witness to her faith, the Gospel and the values of the common good, family life, peace and concord among peoples".