Pope Francis creates 20 new cardinals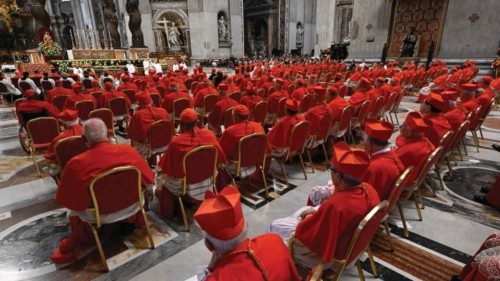 02 September 2022
Rome, 27 August
On Saturday, 27 August, the Supreme Pontiff Francis held an Ordinary Public Consistory in the Vatican Basilica for the creation of new Cardinals, and the imposition of the biretta, consignment of the ring and assignment of the Title or Deaconry.
The Holy Father entered the Basilica at 4:00 pm, pausing for a moment of prayer before the Altar of the Confession. He was then greeted by the Prefect for the Dicastery for Divine Worship and the Discipline of the Sacraments, the first among the new Cardinals. After the opening prayer and the proclamation of the Gospel (Lk 12:49-50), the Pope gave an address. He then read the formula for the creation of the new Cardinals, proclaiming their names.
— Arthur Roche, Archbishop-Bishop emeritus of Leeds, Prefect of the Dicastery for Divine Worship and the Discipline of the Sacraments;
— Lazzaro You Heung-sik, Archbishop-Bishop emeritus of Daejeon, Prefect of the Dicastery for the Clergy;
— Fernando Vérgez Alzaga, lc , titular Archbishop of Villamagna di Proconsolare, President of the Pontifical Commission for Vatican City State, and President of the Governorate of Vatican City State;
— Jean-Marc Aveline, Archbishop of Marseille, France;
— Peter Ebere Okpaleke, Bishop of Ekwulobia, Nigeria;
— Leonardo Ulrich Steiner, ofm , Archbishop of Manaus, Brazil;
— Filipe Neri António Sebastião do Rosário Ferrão, Archbishop of Goa and Damão, India;
— Robert Walter McElroy, Bishop of San Diego, United States of America;
— Virgilio do Carmo da Silva, sdb , Archbishop of Dili, East Timor;
— Oscar Cantoni, Bishop of Como, Italy;
— Anthony Poola, Archbishop of Hyderabad, India;
— Paulo Cezar Costa, Archbishop of Brasília, Brazil;
— Richard Kuuia Baawobr m. afr. , Bishop of Wa, Ghana;
— William Seng Chye Goh, Archbishop of Singapore, Singapore;
— Adalberto Martínez Flores, Archbishop of Asunción, Paraguay;
— Giorgio Marengo, imc, titular Bishop of Castra severiana, Apostolic Prefect of Ulaanbaatar, Mongolia.
— Jorge Enrique Jiménez Carvajal, Archbishop emeritus of Cartagena, Colombia;
— Arrigo Miglio, Archbishop emeritus of Cagliari, Italy;
— Gianfranco Ghirlanda sj , — former Rector of the Pontifical Gregorian University;
— Fortunato Frezza, titular Archbishop of Treba.
The Bishop of Wa was not among the Cardinals present in the Basilica. The birettas were then imposed on the new Cardinals, rings were consigned and the Titles and Deaconries were assigned.
This was followed by the vote on the Causes of Canonization of Blesseds Giovanni Battista Scalabrini, Bishop of Piacenza, Founder of the Congregation of Missionaries of Saint Charles Borromeo and of the Congregation of Missionary Sisters of Saint Charles Borromeo, and Artemide Zatti, professed layman of the Salesian Society of Saint John Bosco (Salesians).
The ceremony concluded with the Apostolic Blessing, which the Holy Father imparted to all those present, and the hymn, "Salve, Regina" (Hail, Holy Queen).