Holy Father expresses condolences upon the death of Mikhail Gorbachev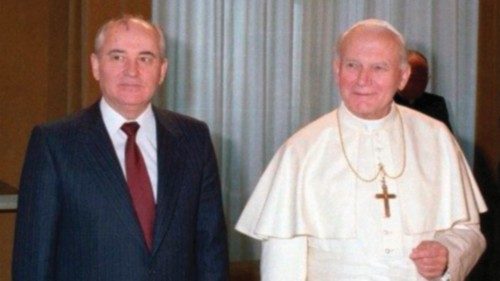 02 September 2022
Following a lengthy illness, Mikhail Gorbachev died at hospital in Moscow on Tuesday, 30 August, at age 91.
Pope Francis sent a telegram of condolences on Wednesday, 31 August, to the former Soviet statesman's daughter, Ms Irina Gorbachev.
The Pope expressed his "spiritual closeness" during this time of grief, and extended his "heartfelt condolences" to his family members and everyone who saw him as a valued statesman. "As we gratefully remember his far-sighted commitment to concord and fraternity amongst peoples, as well as to the progress of his own country at a time of important changes, I raise prayers of suffrage, invoking eternal peace for his soul from the good and merciful God", reads the telegram.
The prominent former Soviet statesman and reformer helped lift the Iron Curtain, leading to the dissolution of the Soviet Union, and chartered a new course in relations with the Holy See, putting an end to decades of religious persecutions against the Catholic Church in the former USSR.
Mikhail Gorbachev was also a Nobel Peace Prize Laureate, and the last president of the Soviet Union before its dissolution in 1991.