A conversation with Arctic Canada's Bishop Anthony Krótki on the Pope's visit to Iqaluit
A reminder of our common humanity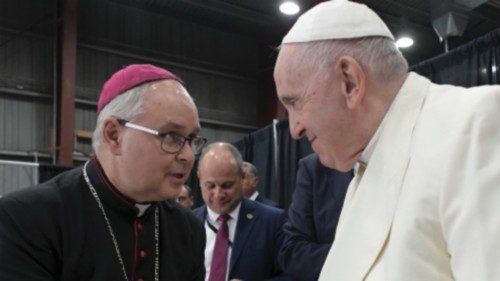 05 August 2022
In this interview with Vatican News, Bishop Anthony Wieslaw Krótki of Arctic Canada's city of Iqaluit, in Nunavut Territory, reaffirms the significance of the Pope making an Arctic stop to meet Inuit residential school survivors, and says, "His Holiness is telling us he loves the Indigenous peoples and wants all of us to live in peace and reconciliation with one another."
Pope Francis' final stop in Canada was in Arctic Canada, in Iqaluit, where Bishop Anthony Wieslaw Krótki, O.M.I. welcomed him, ahead of a significant moment in which the Holy Father met with Inuit residential school survivors and held a public event.
In this interview with Vatican News, the Bishop of Churchill-Baie d'Hudson reflects on why the Pope's visit with these survivors is so important, and about the Holy Father's penitential pilgrimage to Canada centred on embracing, healing and reconciling with the nation's Indigenous Peoples.
Iqaluit is the capital and at the same time the largest community of Nunavut Territory in Arctic Canada, a territory home to more than half the country's Inuit population.
The Diocese is a large territory in the Canadian Arctic with 16 communities having a Catholic population. It is a relatively new Diocese in the world with the first mission established in 1912 on the west coast of Hudson Bay, in Chesterfield Inlet. It has been served by five Bishops, starting with the founder of the first mission, French Bishop Arsène Turquetil, O.M.I.
During his Apostolic Visit, Pope Francis apologized to the Indigenous Peoples for 'catastrophic' errors of the past committed by many Christians with the residential school system, and has called for an investigation to learn how to prevent such tragedies from ever occurring again.
The Diocese of Churchill-Baie d'Hudson was the first Diocese in Canada to apologize to the former students of a residential school back in 1996, and like other Dioceses in Canada, it recently contributed to the Canadian Bishops Canadian Indigenous Reconciliation Fund.
In the interview, Bishop Krótki denounces "unacceptable abuses" perpetrated upon indigenous in the past, and informs that a number of the Diocese's Catholic parishes are taken care of by Inuit lay leaders.
Bishop Krótki, what is, in your opinion, the significance of the Pope's visit to Iqaluit and Canada?
By coming to visit Canada, including the city of Iqaluit, His Holiness is telling us he loves the Indigenous Peoples and wants all of us to live in peace and reconciliation with one another.
It is not important that the Pope comes to Iqaluit but it is important that he comes to the territory of Nunavut, home to over half the Inuit population in Canada. Iqaluit was not chosen because of a large indigenous Catholic population, as the main indigenous population of the city is Anglican.
The Catholic parish is an active parish that includes Indigenous People and a large multi-culture non-indigenous population.
Iqaluit was also chosen because of its aviation safety measures, number of hotel rooms to accommodate students and visitors, and its access to political, church and indigenous organization administration in Ottawa.
You speak of the active Catholic parish, which includes Indigenous Peoples and is diverse. Could you share more with me about the Church you serve in the Churchill-Baie d'Hudson Diocese?
The Diocese covers a large territory where the only access between communities is by air, a challenge for ministry conducted by a small number of clergy and lay leaders. The Nunavut population — about 80% Inuit — declare themselves as Christians, mainly following the Anglican and Roman Catholic traditions. A number of our Catholic parishes are taken care of by Inuit lay leaders. While our Diocese was one of the first to form lay leaders to undertake this kind of role in 1968, it is a challenge today to attract the next generation of leaders that suffer from the cultural shock associated with rapid modernization and the social stigma associated with not always living a perfect life.
Our Diocese has a proud tradition of men and women that dedicated their life to bring the Good News to the Inuit, mostly Oblates of Mary Immaculate, and the Grey Nuns of Montreal.
Could you tell me more about this tradition?
We have the largest collection of scriptural and liturgical materials printed in an Indigenous language in Canada, with a special emphasis in recent years on developing aids for lay leaders. In many ways Inuit have always been integral to spreading the Good News in their land. They guided the missionaries to visit outpost camps, taught them the language, and showed them how to harvest animals from the land and sea. In some areas, they themselves were the ones to bring the message of Christianity to other camps.
Iqaluit is the only community with such a large non-Indigenous population. Many professional jobs are held by outsiders. Governments and Inuit organizations have high targets of Inuit employment that have stalled around 50%. Until the level of education is higher, many of the professional jobs will not be held by local people, and this creates a tension because the group from outside their territory is also able to access scarce housing.
Iqaluit has been called Canada's youngest and fastest-growing capital city, with a diverse mix of cultures, piled atop an Inuit civilization that stretches back millennia, but as it developed, have there been problems and tensions associated with this development and with co-existence? How do you believe the Pope can help assuage this tension?
Hopefully the presence of the Holy Father will not only bring healing to people affected by the legacy of residential schools but will help to remind us of our common humanity and desire to live together as God's children.
In our Diocese, we can continue to journey with our congregation members both in their healing path and in joyful events and celebrations, both inside and outside the Church. We can continue to encourage local lay leadership in our parishes.
Pope Francis has offered a profound apology to Canada's Indigenous Peoples for how many members of the local Church had been historically involved in this residential school system and the "catastrophic errors" that had been committed. When thinking back to these residential schools, how have you dealt with this?
Our Diocese was only involved with one school for less than 15 years. The educational benefits of that institution have been proven by the number of former students that became leaders in their society, government and in the area of land claims negotiations. The school also brought some pain and suffering with young people not living at home on a year-round basis as well as some unacceptable abuses.
The Churchill-Hudson Bay Diocese was the first Diocese in Canada to apologize to the former students of a residential school back in 1996. Like other Dioceses in Canada, we have recently contributed to the Canadian Bishops Canadian Indigenous Reconciliation Fund. This will be used for projects to promote healing and cultural revitalization.
By Deborah Castellano Lubov