New WCC General Secretary elected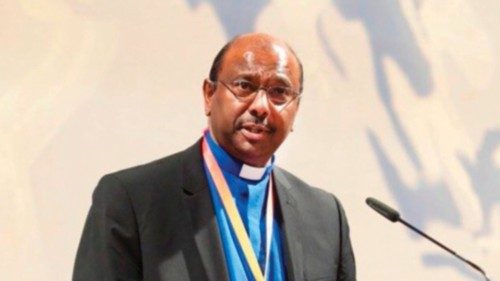 24 June 2022
The World Council of Churches (WCC) has elected a new General Secretary, Rev. Prof. Dr Jerry Pillay, a member of the United Presbyterian Church in Southern Africa. Born to Indian parents in South Africa in 1965, the theologian is the first from his native country to lead the WCC, an ecumenical fellowship of 352 churches from more than 120 countries, representing over 150 million Christians worldwide. The WCC, founded in 1948, has Christian unity as its primary focus and includes members of most of the world's Orthodox churches, many Anglican, Baptist, Lutheran, Methodist and Reformed churches, and many United and independent churches.
Pillay won the election held at the WCC's Central Committee meeting, receiving more votes than Malankara Orthodox candidate Elizabeth Joy. Pillay will take up his new position on 1 January 2023, succeeding Romanian Orthodox priest, Ioan Sauca, who was named interim General Secretary in 2020.
Pillay boasts years of experience in ecumenism, both in the form of theological reflection and in spearheading national, continental and international projects to promote Christian unity. He is currently dean of the Faculty of Theology and Religion at the University of Pretoria in South Africa.
At a press conference, WCC Central Committee moderator, Dr Agnes Abuom, shared words of congratulations and blessings for Rev. Pillay's new ministry. "May the WCC global fellowship warmly welcome you, pray for you, and show you in every way that we care for you as you take on important leadership in our ongoing journey toward Christian unity," she said.
"You and the ecumenical movement are making history — and forming a future in which we can live out God's love for one another and for all". The General Secretary-elect expressed his personal joy at having been called to take on this role, noting that ecumenism has always been present in his life. Even before being ordained, he participated in numerous ecumenical meetings as the chosen representative of the Presbyterian church.
At the press conference, Pillay also presented his vision for the future of the WCC. "Important for me is the idea of justice and unity", he said, explaining that the WCC's mission is "to continue to work at visible unity" among Christians, and emphasising that "a divided church presents a very weak and feeble and fragile witness to a very fragmented world".
In response to a question regarding the Russian Orthodox Church's membership in the WCC in light of Moscow Patriarch Kirill's support of the war in Ukraine, Pillay said that "the WCC would advocate dialogue". "We need the Russian Orthodox church with us in these conversations; we can't have them without them. So, suspension is not on the cards at the moment", he underscored.
The WCC was set to be inaugurated in 1937-1938, following a vote by leaders of more than 100 churches to found a World Council of Churches. Unfortunately, its inauguration was delayed due to the outbreak of World War II. The First Assembly did not take place until 1948 in Amsterdam, Netherlands. There were 147 member churches at the time. By the end of 2013, the year of the last Assembly, held in Korea, its membership had increased to 345 churches.
The 11th Assembly of the WCC is scheduled to take place in Karlsruhe, Germany, from 31 August – 8 September 2022.