Francis' help to Ukrainian refugees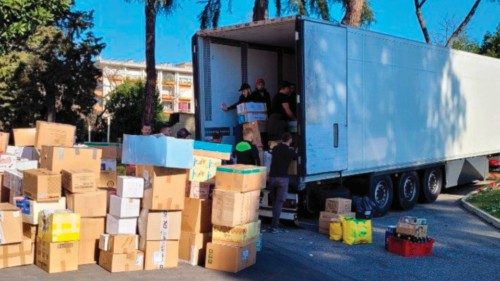 04 March 2022
The Pope, through the Office of Papal Charities, has sent a first batch of aid and medical supplies destined for Ukraine to the Basilica of Santa Sofia in Rome, where donations are being organized to be sent to the eastern European nation. A point of reference for the Ukrainian community in Rome, the Basilica of Sant Sofia is where many come to share their sorrows and ask for practical needs.
For several days now, trucks loaded with food and basic necessities have been departing from the Basilica to bring aid to the people who have been living through the dramatic consequences of the war.
Vehicles have been patiently lining up in the forecourt of the Basilica, waiting to unload the material collected. This concrete gesture of closeness to the people of Ukraine arose spontaneously soon after the outbreak of the conflict between Russia and Ukraine.
The Holy Father's donations were brought to the Basilica of Santa Sofia by Cardinal Konrad Krajewski, Almoner of the Office of Papal Charities, in response to an appeal made by the Ukrainian community, asking for medical supplies. The first batch of the Pope's gift, containing among other things syringes, plasters and disinfectants, will be followed by a another one with medicines.
Donations will be delivered to Lviv, the city closest to the Polish border. "The Vatican is ready to help those in need", the Cardinal said, without looking at nationality distinctions but at the man in need. He added that nuncios living in the most difficult areas will also receive sums of money intended to support their communities. The Nuncio in Romania, who is supporting Ukrainian refugees hosted in various structures, was the most recent nuncio to receive aid.