At the Bethlehem Centre
The Lord is with us also in times of difficulty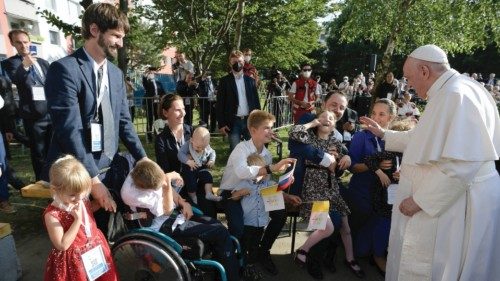 24 September 2021
On Monday afternoon, 13 September, the second day of his Apostolic Visit, the Holy Father visited Bethlehem Centre in Bratislava's Petržalka neighbourhood, a facility that cares for the very poor and the sick, run by the Missionary Sisters of Charity. The following is the English text of the Pope's extemporaneous address to them.
Good evening to all of you!
I am happy to visit you and to be with you. Thank you for having me!
I very much thank the Sisters for the work they do in welcoming, assisting and accompanying others. Many thanks! I thank the mothers and fathers, who are here with their children; and I thank all the young ones for their presence. The Lord is also with us; whenever we are together, so happy, the Lord is with us. But he is also with us at times of difficulty. The Lord never abandons us; he is always with us. We can see him and we cannot see him. Yet he always accompanies us along our life's journey. Don't ever forget this, especially when times are hard. Thank you, thank you so much!