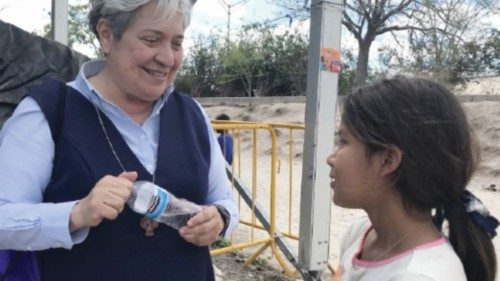 02 January 2021
They distinguish from politicians and activists, economists and scientists. Today, both in the traditional areas of education and social promotion, and in the more avant-garde ones, such as finance, the environment or social media, more and more religious are excelling in terms of competence and initiative, courage and creativity.
One of these, a nun called Norma Pimentel, was even included among the hundred most influential figures by "Time" magazine last year. One of these, a religious from the Missionaries of Jesus, who is committed to serving migrants, has been directing Caritas del Rio Grande on the border between the United States and Mexico for many years. Born in Mexico and who emigrated to the U.S. at the age of ten, she continues to work on a border that is not only geographical, but also political and social, especially during the Trump presidency years, which has made of it a manifesto of sorts.
However, it is also on other more symbolic frontiers, but none less critical -such as those of social media-, that some very interesting religious figures are emerging. For example, the Argentinean hermana Claudia, of the Congregation of the Sisters of Charity of Our Lady of Good and Perpetual Help, who has moved to Italy and... onto TikTok! Hermana was one of the first to arrive on the social network, which is very popular with young people, and slip in messages of faith and prayer between memes and gags, dances and videos. With about 75 thousand followers, Sister Claudia has achieved real notoriety. For example, in a video in which she asked for a blessing from anyone who watched her, she received two million views.
So as not to leave anything to chance, the International Union of Superiors General (IUSG) has organized three webinars on the new methods of evangelization and digital discernment. The first, dedicated specifically to the use of TikTok, allowed religious from all over the world to question and reflect on what the meaning of the presence of the sisters on this social media might be, and how it might help in the religious life mission. A topic, but above all a practice, which seems to have spread rapidly with the advent of the Coronavirus. On one hand, the pandemic has imposed inevitable physical distances, on the other, new forms of closeness. This has also been experienced by those who have made isolation a life choice, for example cloistered nuns. One example of which is the Poor Clares of St Clare in Curtatone, near Mantua, who chose WhatsApp to send daily summaries and comments on the Gospel. Instead, others have relied on Facebook. On the other hand, Twitter. For example, Sister Simone Campbell, who is the leader of the Catholic Social Justice Network Lobby. Along with two thousand other American religious in the frantic days following the US election, she wrote a letter to President Trump and relaunched the hashtag #EveryVoteCounts, explaining that "in a secular democracy, voting is the closest thing to a sacrament, and we will do everything we can to protect this sacrament". Sister Simone is also the leader of Nuns on the Bus, a group of religious who have been traveling across the United States by bus since 2012 to carry out awareness campaigns on various social justice issues. These include poverty, migration, the right to health, inequality, and seek to highlight the economic and financial system that enriches the rich and impoverishes the poor.
Alessandra Smerilli knows this all too well. In addition to being a Salesian nun, she is an economist, and professor of Political Economy and Statistics at the Pontifical Auxilium University, a member of the Committee of Women for Equal Opportunity, sort after by Minister of Parliament, Elena Bonetti, and appointed by Pope Francis as Vatican State Counsellor. Prior to her appointment, another religious had tried her hand on the frontline of finance. Here name is Giuliana Galli, of the Vincentian Sisters of Cottolengo. A graduate in Sociology, from the University of Florida, for over twenty years she has been the coordinator of volunteer work at the Piccola Casa della Divina Provvidenza in Turin. Since 2008, she has been a member of the board of directors of the Compagnia di San Paolo, of which she became vice-president in 2010. Her specific role is to invest the Intesa-San Paolo banking group's profits in social welfare programs. They have called her "the sister bank", but she feels more like a militant, both in real life and in the virtual world. Today, at 85 years of age, she is very active both on Facebook and in Mamre onlus, the association she helped to establish. This non-governmental organization is engaged in integration and intercultural mediation projects, but also in the distribution of food in this time of pandemic. The immense commitment of women religious is also recognized in contexts where religious minorities do not always have an easy life. In India, for example, where in September 2020 the Catholic nun, William Parmar, of the Carmelite Sisters of Charity, received a prestigious award from President Ram Nath Kovind. The award was in specific recognition of "her exemplary and commendable social service" in the field of literacy and ecology, and which involved the planting of almost 20,000 trees. In the field of environmental and climate protection, many women and religious sisters are making an often silent but increasingly significant and valuable contribution.
by Anna Pozzi